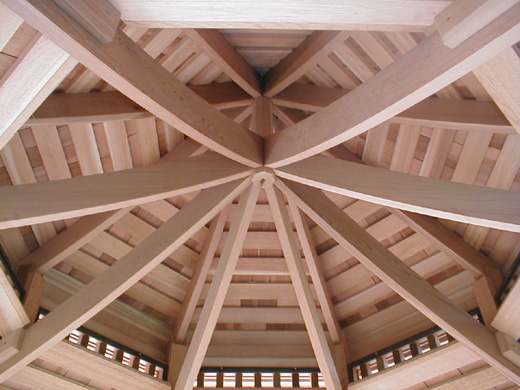 Excellent view of the interior ceiling of the gazebo. The fit, finish and attention to detail of the particular gazebo package are outstanding, giving even the interior a complete, interesting appearance. Of note is the small notch in the central roof pillar, designed to accommodate a ceiling fixture or fan. The rafter immediately adjacent to that notch cleverly conceals a channel in which the electrical feed may be attached. We were very impressed with this project and would not hesitate to recommend it to anyone considering the construction of an outdoor structure.

---
Send mail to the webmaster with questions or comments about this web site.
Page developed by HPE
Copyright © 2000 Olson Construction, Inc. All rights reserved.
Revised: May 09, 2000 .

---